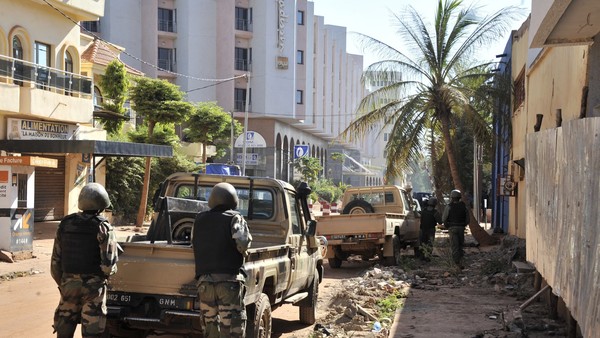 News is breaking that Al Qaeda is claiming responsibility for an attack on a luxury hotel in Mali, wherein something like 170 people were taken hostage and three were killed. Of course, the familiar "Allahu Akbar", the jihadist battle cry, was reportedly heard screamed by the gunmen, according to witnesses.
We keep being told Al Qaeda is not the same as The Islamic State — or ISIS. There's some debate as to whether or not that matters, except in as much as it might be useful to play them off each other if we ever get to a place where that becomes a feasible strategy (at this point, that's unlikely because, while they compete with each other, they both HATE us). Apparently they like to one-up each other:
The attack comes just days after militants affiliated with the Islamic State staged coordinated attacks in France. It is unclear if the two incidents are related — the Islamic State and the ethnic Tuareg militant groups that dominate in Mali have competing interests – but the Paris attack may well have inspired the raid in Bamako.
But what's more interesting is that the morning of the ISIS attacks in Paris, our president declared ISIS was contained. Now comes a report that Secretary of State John Kerry told reporters that Al Qaeda was "neutralized":
These are the men we've elected to keep us safe, America.